Engagement shoots, otherwise known as a pre-wed shoot is a great way of getting to know your photographer before your big day. It is a chance to see how they work which is important as they will be with you for most of the day. Being comfortable around them is hugely important as you want to be relaxed and confident that they are producing the best images for you. I love shooting engagement portraits as it is an informal session, and getting to know the couple is one of the most important things for me.
I usually catch up with the couple a few days or even weeks before the engagement shoot to discuss details for the day. One question that often comes up is "What shall we wear?". And for that reason, I have listed below some of my personal thoughts and considerations on what to wear to your engagement shoot:
Be yourself!
—
The first thing I say to couples are – be yourself! It is really important that you wear something that you are comfortable with. This is the best way for your personalities to shine as you are not thinking about what you are wearing, but enjoying the experience. There is no point in wearing something you are not sure about, just because it conforms to a certain trend or look. If you are happy on the inside, trust me, this will show on the outside too.
It may also be worth considering having your make-up and hair done professionally before the shoot. This is also a great way of trialing some hair and make-up artists before the wedding. This will definitely show up positively in your photographs, even if you apply the make-up yourself.
The same goes for type of garment you choose to wear. You should choose clothes that suit your body type, that is comfortable, and something you are fully confident in wearing. This again will show in your pictures if you are happy.
Matching and colours
—
I often say to couples, "don't wear the same colours". By that, I mean for example, don't wear the same colour top or trousers as each other. This will look a little odd in the pictures, and you may regret that decision when you see your pictures! What I suggest is if the girl is wearing a red dress for example, that the guy wears a similar highlight colour such as a tie, or pocket square. This will look great in pictures as you are coordinating without looking like twins!
I try and avoid suggesting neutrals such as black and white as it doesn't really stand out as much. However bright and bold colours look great depending on the location, and you can really allow your personalities to shine. After all, pre-wed shoots are meant to be fun and exciting, so why not go a little wild and do something different (as long as you are comfortable inside and out!).
Themes and styles
—
Casual or formal? Relaxed or smart? There are styles and themes you can choose for your engagement shoot. However whatever you choose, be sure to choose the same style for both. For example if she is wearing a casual dress, the guy should wear equivalent clothes in order to carry the theme. The season generally dictates what people wear to engagement shoots so if its summer, the girl could wear a light dress and the guy could wear a light shirt. It may look strange if the wrong seasonal clothes are worn, such as jumpers in the summer! As most pre-wed shoots happen outside, be sure to check the weather to see what is suitable.
Location
—
Piggy-backing on the theme of your shoot, this is also influenced by the location that you choose. Location types can vary from urban, city and gritty through to rustic countryside. Wherever you choose, make sure that the colours you wear pop out from the scene. For example if you choose an urban, grey scene, adding a pop of colour such as reds, yellows or purple can really lift you both out of the background and create some interesting contrasts. The same goes for rural settings, where I would avoid earthy tones such as browns and green, as you would be camouflaged in the background.
As mentioned before, pre-weds and a great opportunity to try something different as long as you are comfortable. So pick out some bright colours and have fun!
Multiple outfits
—
If you can't decide on the theme you want for your shoot, bring along some alternative options. This is great way to vary things up, especially if you are exploring different locations on your shoot. You could start off casual and informal to get you relaxed and in the mood for some candid shots. Then later (after a quick change in your car or a hotel room) you can switch the theme to a more formal or dressy style. This would give you a lot of options when it comes to variations of portraits, and is great practice when it comes to the big day when you may have a few outfit changes.
Enjoy the experience!
—
Above everything else, engagement shoots give you a chance to be relaxed with each other and the photographer. In many ways, if you ignore the photographer (no offence will be taken!) and you both just act naturally, these tend to get the most relaxed images when you are both happy, smiling, loving and affectionate with one another. It is the job for me to capture this in its most natural state, which will definitely show positively in your pictures. So hopefully these tips have given you some food for thought on what to wear to your engagement shoot.
So why not book your pre-wed shoot with me today? I offer free engagement shoots for all my couples who book me for their wedding day. This is mainly so I can get to know my couples, and for them to know me and the way I work. It also gives my couples beautiful portaits for them to use for their wedding day such as for guest signing books, wall art and other prints.
Here are some examples of engagement shoot portraits for inspiration!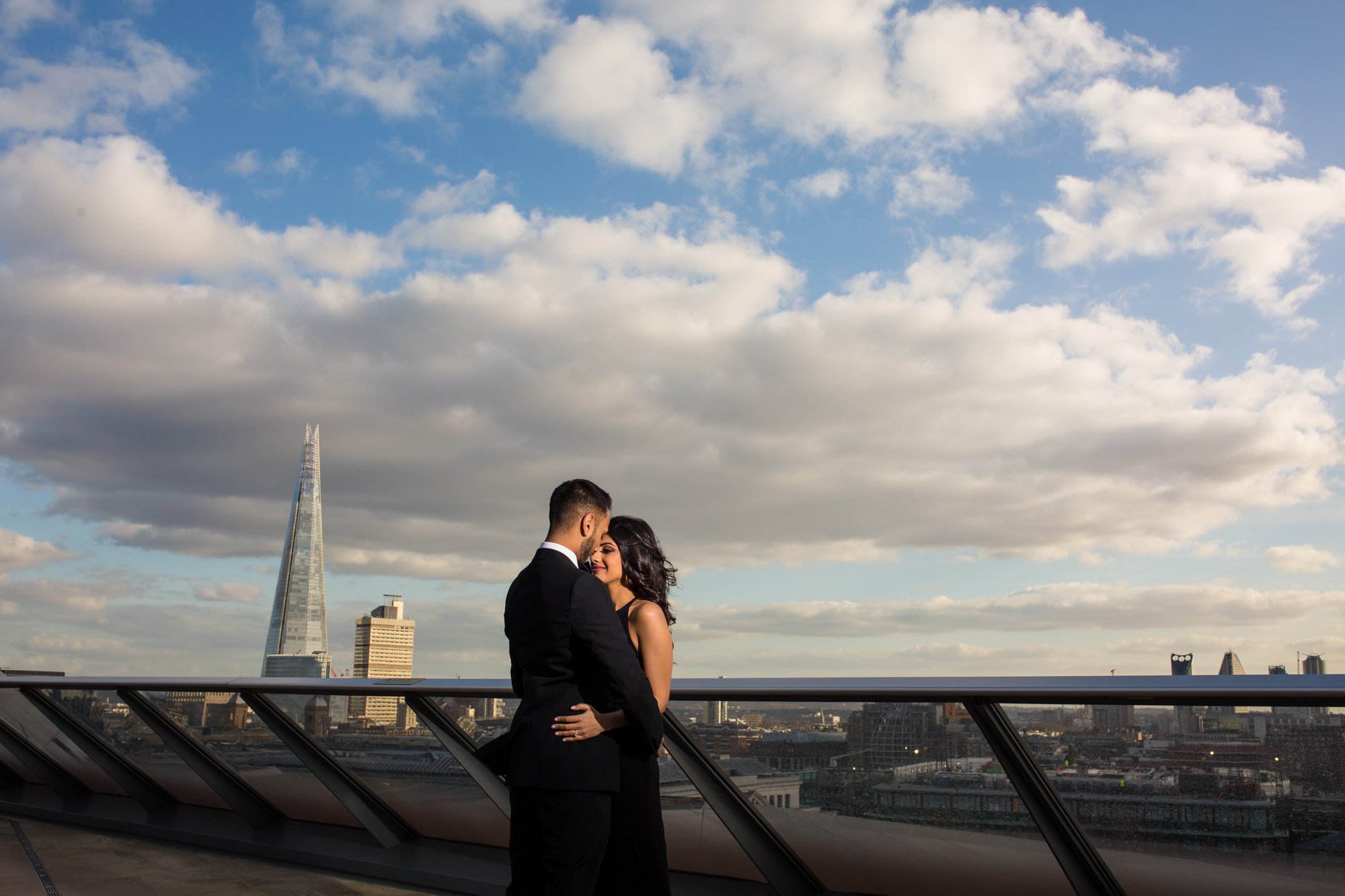 If you have liked what you have seen, please feel free look at my other work as well. I would love to hear about your big day and how I can help, so contact me today!